Proper Water Treatment Solutions lead to Efficiency & Economy
In the agricultural and fish farming sectors, it is necessary to invest in water treatment solutions to increase overall production, improve product quality and reduce the operating costs so as to be competitive.
«TEMAK supports agricultural and fish companies with its appropriate water treatment solutions, enhancing their benefits qualitatively and economically, ensuring the lowest environmental footprint."
Solutions and applications for the Agricultural and Fish Farming sectors
Greenhouses & Fish Farms

Reverse Osmosis

Filter (Bag – Cartridges)

Filters (Turbidity Filter – Activated Carbon)

Dosing System – Instruments

UV-OZON

Chemicals for Boilers

Greenhouses – nurseries
*
*
*
*
*
*
Fish Farms
*
*
*
*
*
Benefits of cooperating with TEMAK
Qualitative:
The use of high quality water in agricultural crops and fish farms results in increased production, products of excellent quality and a competitive advantage over competition.

Reduction of wastage due to poor quality of products.

Minimizing the maintenance cost of hydraulic equipment.

Providing water of best quality and low cost for 24 hours per day.

Reduction in production cost due to the transfer of water to remote installations.
Environmental:
Minimum environmental footprint due to low power consumption and high recovery of TEMAK system

Water treatment by desalination method for drilling, municipal or seawater
Economic:
Ability to subsidize equipment through funded programs

Low operating cost

Short time of depreciation of investment capital

Leasing
Benefits
Quality in:

• Potable water • Design of solution• System manufacture and efficiency •Endurance • Installation and commission •Spare parts availability • Promptness in service
Cost reduction due to:

• Avoidance of pipelines and tanker ships use for water supply • Reduction of bottled water consumption • Solid waste volume reduction due to plastic bottles • Water supply network protection from corrosion or salt scaling
Protection from failures and wear & tear:

• Hydraulic installations • Piping • Electrical devices • Sanitary ware • Water heaters electric resistance • Radiators • Hot water boilers • Dishwashers and washing machines • Other installations
Moreover:

• 24-7 quantity sufficiency all year round • Maintenance of trees, plants and grass, healthy and with vivid colour • Environmental protection, deploying available water and energy resources • Rational use (saving consumption) of available and reject water • Potential of operation and maintenance by our experienced staff
Contact Us
Proper Water Treatment Solutions lead to Efficiency & Economy
---
Water Desalination by Reverse Osmosis Method
Water Desalination by Reverse Osmosis Method Irrigation process efficiency of used water depends on both the quantity and quality of using water. There are two water quality parameters that are taken into account for the characterization of water quality – electrical conductivity and SAR (sodium concentration). High conductivity value, combined with high SAR value in irrigation water, can reduce or even inhibit plant growth and yield. When the soil is irrigated with water with high sodium concentration, it clogs the soil resources causing problems in plant growth. Floriculture and hydroponics require low salt water (<800μS/cm ) even desalinated water in some applications.
TEMAK water treatment systems cover the water requirements for irrigation in floriculture, hydroponics and crops sectors including fish farms for production and packaging needs.
Brackish Water Reverse Osmosis System 700m3 /day
Sea Water Reverse Osmosis System 350m3 /day
Filtration
Filtered water reduces damage to the irrigation network, making greenhouses and nurseries more efficient, maximizing the life of dripper, mist system, and all hydraulic equipment. In addition, filtration systems are necessary in the fattening units of fisheries for water recirculation
Bag Filters
Cartridge Filters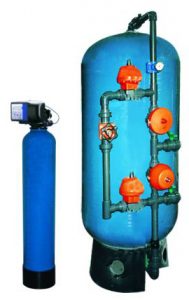 Turbidity Filters
UV – OZON Dosing Instruments
TEMAK's product range offers solutions in greenhouse and nursery applications for dosing fertilizers in cultivation and chemical additives in the greenhouse boiler. In fish farming sector, it is necessary to disinfect water with UV in recirculation water and in ice production. In some aquaculture applications, the ozone disinfection method is also applied.
Ultra Violet Disinfection
Metering Controlers & Dosing Pumps