Appropriate Water Treatment Solutions mean Efficiency And Economy
Water treatment in public and private hospitals and clinics is a primary need. TEMAK provides water treatment plants and disinfection systems suitable for hemodialysis, production of potable water, water for general use, water for food production, deionized water for biochemical laboratories and sterilizers. These systems are necessary for every Hospital and Clinic, ensuring high quality of the required services. Furthermore, water treatment, maintenance and disinfection of the hydraulic installations ensure safety in use and durability.
«Having as major principles responsibility and commitment for reliable solutions, TEMAK provides valuable projects for Health and Life, contributing to the daily effort for safe and quality healthcare»
Solutions and applications for the Hemodialysis Centers & Hospitals sector
​
| Hemodialysis Centers & Hospitals | Softening | Deionization | Reverse Osmosis | Filter (Bag – Cartridges) | Filters (Turbidity Filter – Activated Carbon) | Dosing System – Instruments | UV-OZON | Chemicals for Boilers | Chemicals for Cooling Towers |
| --- | --- | --- | --- | --- | --- | --- | --- | --- | --- |
| Hemodialysis Centers | * | * | * | * | * | * | * | | * |
| Hospitals | * | * | * | * | * | * | * | * | * |
| Clinics | * | * | * | * | * | * | * | * | * |
| Institutions | * | | * | * | * | * | * | * | * |
| Laboratories | | * | * | * | | | * | | |
Benefits of working with TEMAK
Quality in: Design of solution, system manufacture and efficiency

Durability with guaranteed operating performance

Operating and maintenance cost reduction for the Hospital due to therational management of raw and reject water

Minimization of energy consumption and savings in water heating and cooling, longevity of appliances and installations that use water

Protection from failures and wear & tear: Hydraulic installations, piping, electrical devices, sanitary ware, water heaters electric resistance, steam boilers, radiators, air conditioners, hot water boilers, medical equipment washing machines, sterilization ovens etc

Study and design of solutions according to the real needs of the clients

Complete, annual packages for the preventive maintenance of the systems to ensure the safety of the patients, the proper operation of the Hospital facilities and the immediate technical support

Specialized scientific support and service

Stock of consumables and spare parts
Appropriate Water Treatment Solutions mean Efficiency And Economy
---
Water Treatment Units with Reverse Osmosis Method
TEMAK provides a wide range of reverse osmosis systems producing water according to the required specifications for every application in Hospitals and Clinics. TEMAK's modern water treatment plants cover all the required needs in Hospitals, such as Water for Hemodialysis, Central Sterilization Units, and any other hospital application which requires the removal of salts, microorganisms, organic substances, odor, chlorine, particles and other harmful elements from water.
Filtration for Water Supply Systems
TEMAK's automated filtration units offer prompt solutions to the removal of suspended solids and pollutants, which are responsible for water turbidity, and the removal of chlorine, organic substances and odor from water.
TEMAK provides a wide range of automatic filters for all applications, such as turbidity filters, activated carbon filters, iron removal filters for any flowrate.
Bag Filters
Cartridge Filters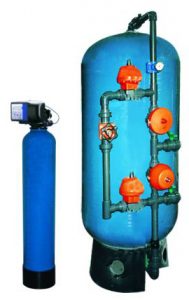 Turbidity Filters
Softening
TEMAK's water softening systems remove the total hardness from water (calcium and magnesium salts) ensuring the protection of hydraulic installations, appliances, steam networks and refrigeration circuits from salt deposition. TEMAK provides a wide range of softeners for any flowrate.
Softener
Deionization
TEMAK's deionizers are used to remove total salts (ions) from water to produce low conductivity water. This is achieved by passing water through two beds of ion exchange resins or one bed of mixed ion exchange resin. The produced water doesn't contain salts and meets the requirements of high quality water for the equipment that follows. TEMAK provides a wide range of automatic deionizers and mixed-bed deionizers, covering any flowrate and all areas of application.
Deionization Systems
Automatic Chlorination Systems – UV Disinfection Systems
TEMAK provides complete water disinfection solutions with automatic chlorination systems and UV equipment. TEMAK's automatic chlorination systems ensure complete disinfection of the water network and drinking water tanks through controlled chlorine dosing and continuous water quality control prior to consumption. Ultraviolet devices are used to disinfect water by deactivating/destroying the pathogens that it may contain, in order to prevent their growth in the water path to the final destination.
Automatic Chlorination System
Ultra Violet Disinfection System
Chemical Additives in Cooling Towers and Steam Boilers
TEMAK through its long experience in water treatment provides chemical additives in order to achieve protection of the equipment, maximization of its efficiency, reduction of water and energy consumption. All these factors lead to economic benefits. The optimum operation of boilers requires the use of chemicals, which can protect the equipment from scaling and corrosion. These problems solved by the chemical additives B-Fine. The main reasons for the chemical treatment of water that enters into cooling towers are to maintain the efficiency of the units at high levels, as well as to protect the equipment against problems such as scaling, corrosion and microbial growth. These problems are solved by the chemical additives C-Fine. TEMAK's chemical additives are in accordance with the guideline (EC) 1272/2008 (CLP) and all their components are FDA approved.
Steam Network Equipment
The optimum and safe operation of steam networks, through proper design, is an important factor for the operation of the hospital. TEMAK provides reliable, high quality steam equipment from recognized manufacturers, with scientific support and competitive prices:
Globe valves
Heat Exchangers
Steam Traps & Y Filters
Pressure Reducers
Safety valves
Thermostatic valves
Butterfly and Ball valves
Pneumatic and Electric motors